08/Dec/2014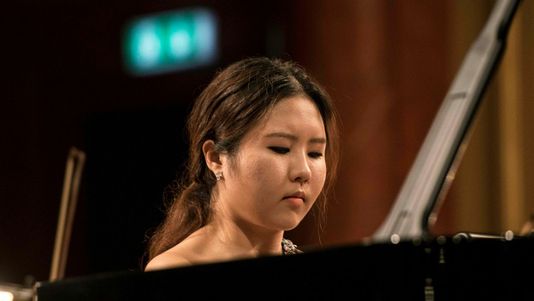 The first-prize winner of the 3rd Takamatsu International Piano Competition Ms. Ji-yeong Mun won the first prize as well as the audience prize in the Geneva International Music Competition which was held in Geneva, Switzerland from November 20 to December 2.
"Geneva International Music Competition" is a prestigious music competition with a long history. The first competition was held in 1939 and it has been held almost every year since there. Piano competition has recently been held every two years. This competition is known for its wide range of disciplines including instrumental, vocal, ensemble and conducting and many famous musicians have been winners of various disciplines.
In piano Martha Argerich won the first prize in 1957. Recently, Yulianna Avdeeva of Russia, who held a recital in Sunport Hall Takamatsu on November 16, won the second prize (no first-prize winner) at the competition in 2006.
This year 172 pianists from 22 different countries applied.
We wish further success of Ms. Ji-Yeong Mun.
■Geneva International Music Competition
Website http://www.concoursgeneve.ch
For more details, please visit http://www.concoursgeneve.ch/site/app/webroot/kcfinder/upload/files/communique_16.05.14_en%281%29.pdf