20/Dec/2016
Mr. Susumu Aoyagai, the Vice Chair of the Takamatsu International Piano Competition, will be playing in Takamatsu.
In order to spread culture and art with focus on piano and promote the 4th edition of the competition,Takamatsu International Piano Competition has hold many recitals and concerts inviting our worldwide juries who travel all around world to perform, judge prestigious competitions and offer lessons.
This time we welcome Mr. Susum Aoyagi who is the vice chair of jury in the 4th Takamatsu International Piano Competition and hold a recital. Mr. Aoyagi has been actively performing as well as serving as a jury in many competitions while teaching at the Tokyo University of Arts. We are sure that you will enjoy his excellent performance.
In addition, please take this opportunity to join TIPC Tomo-no-kai. You will get tickets with a membership discount. No admission fee is needed. We are looking forward to seeing you.
<Message from Mr. Aoyagi>
It has been 11 years since I started to work for the Takamatsu International Piano Competition.
I see now Takamatsu as one of my musical bases and it is my greatest pleasure to play in such a special city.
I selected great pieces from Chopin and Mussorgsky for this recital.
I hope I can share the pleasure of music and have a wonderful time with each of those who supports the competition.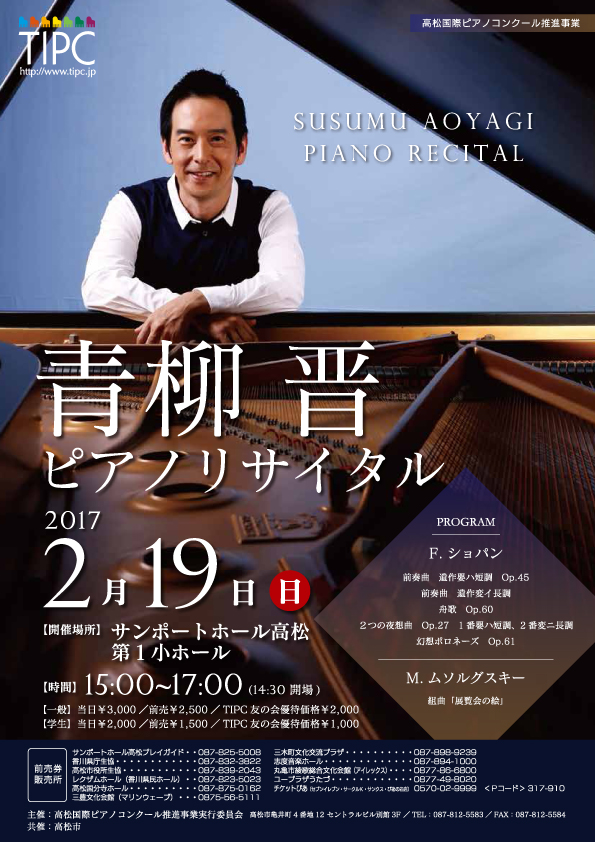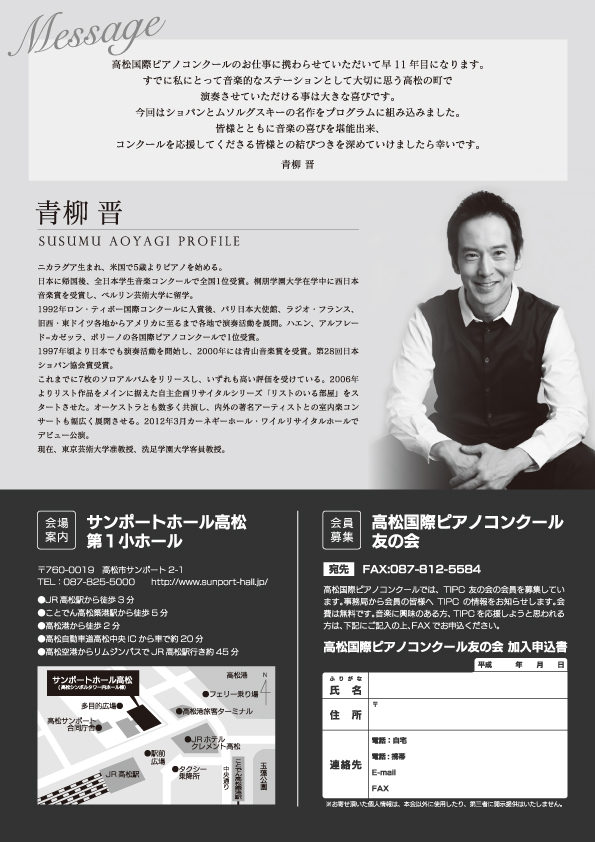 <Date & Time> February 19, 2017 Start at 15:00 (opening 14:30)
<Venue> Small Hall 1 at Sunport Hall Takamatsu
<Tickets>
General ¥3,000 (advanced) ¥2,500 (TIPC Tomo-no-kai complimentary ticket) ¥2,000
Student ¥2,000 (advanced) ¥1,500 (TIPC Tomo-no-kai complimentary ticket) ¥1,000
<Program>
Chopin: Prelude in C-sharp minor, Op. 45
Prelude in A-flat major No. 26
Barcarolle in F sharp major, Op. 60
Nocturne in C-sharp minor, Op. 27, No. 1 and Nocturne in D-flat major, Op. 27, No. 2
Polonaise-fantaisie in A-flat major, Op. 61
Mussorgsky: Pictures at an Exhibition
<Advanced tickets are available below>
Sunport Hall Takamatsu Play Guide・・・・・・087-825-5008
Kagawa Prefecture Office Co-op・・・・・・・・・・087-832-3822
Takamatsu City Hall Co-op・・・・・・・・・・・・・・・087-839-2043
Rexxam Hall (Kagawa Prefecutral Hall)・・・087-823-5023
Takamatsu Kokubunji Hall・・・・・・・・・・・・・・・087-875-0162
Mitoyo Bunka Kaikan (Marin Wave)・・・・・・0875-56-5111
Mikicho Bunka Koryu Plaza・・・・・・・・・・・・・・087-898-9239
Shido Ongaku Hall・・・・・・・・・・・・・・・・・・・・・・087-894-1000
Ayauta Sogo Bunka Kaikan (Ilex)・・

・・・・・・

0877-86-6800
U plaza Utazu・・・・・・・・・・・・・・・・・・・・

・・・・・・

・0877-49-8020
Ticket Pia・・・・・・・・・・・・・・・・・・・・・・・

・・・・・・

・・0570-02-9999 <P code> 317-910