20/Aug/2015
Ms. Jun Ishimura, the 2nd –prize winner of the 2nd Takamatsu International Piano Competition was selected for "Young Artist Development Project Recital Series TOKYO44" organized by Japan Federation of Musicians.
Consisting of recitals by young excellent artists, this series is organized by the Japan Federation of Musicians, entrusted by the Agency of Cultural Affairs, in order to develop and introduce such artists. The recitals are held in six different cities in Japan with devotion and cooperation of the artists.
The series auditions and selects the artists and is co-organized by the Agency of Cultural Affairs and the Japan Federation of Musicians. In principle, the recitals work as a debut recital of the artist starting the music career.
Please visit and enjoy her debut recital at Tokyo Bunka Kaikan.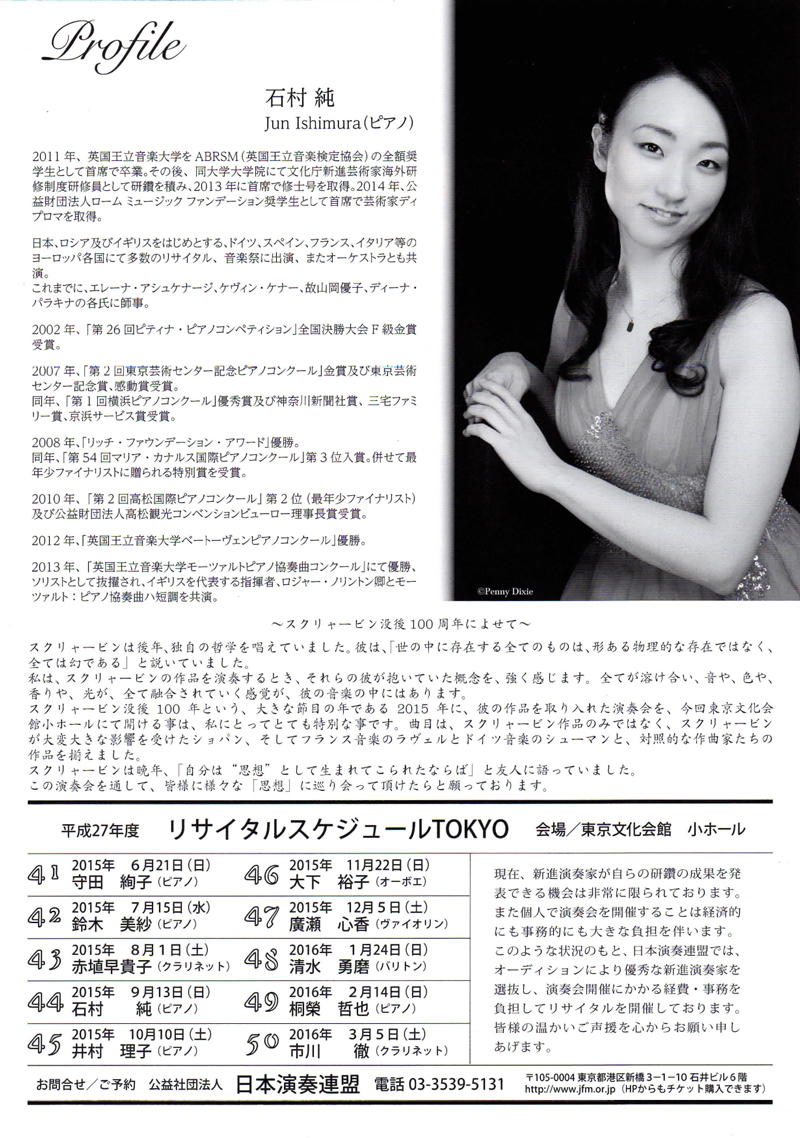 Date: September 13 (Sun), 2015
Time: 14:00 (Door opens at 13:30.)
Venue: Recital Hall, Tokyo Bunka Kaikan
Performance: Piano by Jun Ishimura
<Program>
Chopin Piano Sonat No. 2 in B♭ minor, Op. 35
Chopin Nocturne in B major, Op. 62, No. 1
Ravel La Valse
Scriabin Piano Sonata No. 8, Op. 66
Schumann Carnaval 'Scènes mignonnes sur quarte notes' Op.9


Please visit below for more details.