09/Dec/2014
A press conference was held at 11:00 today in the press room of Kagawa prefectual office to announce to hold the 4th Takamatsu International Piano Competition. Mr. Katsuhiko Takezaki, the Chair of the Organizing Committee, Mr. Keizo Hamada, Governor of Kagawa Prefecture, Mr. Hitoshi Onishi, Mayor of Takamatsu City, Mr. Susumu Aoyagi, a jury of the 3rd Takamatsu International Piano Competition, and Mr. Masamichi Tsukuda, the director of the office were present.
Following speeches of Mr. Takezaki, Mr. Hamada, and Mr. Onishi, Mr. Tsukuda made a report of the 3rd TIPC and announced the ouline of the 4th TIPC. Mr. Aoyagi also talked about his impression on the 3rd TIPC and some changes which will be made for the 4th competition.
The outline is as below.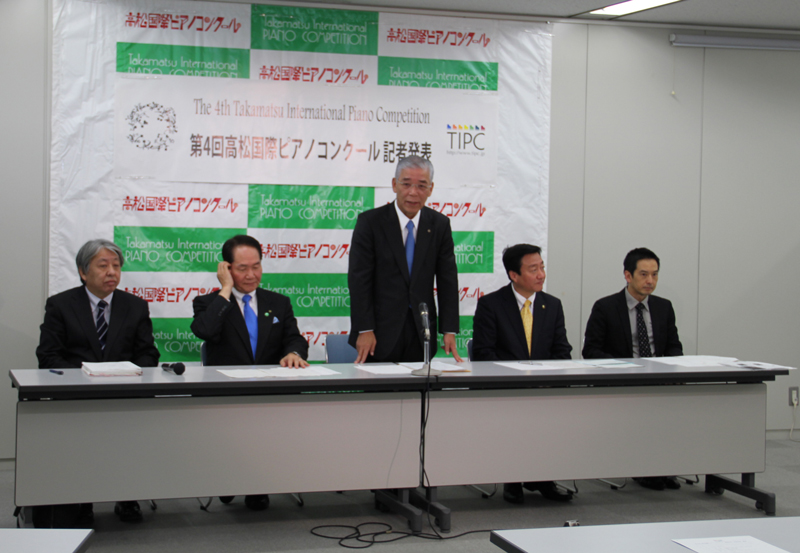 ・Preliminary selection : October - November, 2017

・Date : March 14 (Wed), 2018 - March 25 (Sun), 2018
Round 1 : March 14 (Wed) - 16 (Fri): three days
Round 2 : March 17 (Sat) - 18 (Sun): two days
Round 3 : March 20 (Tue) - 21 (Wed ): two days
Final Round : March 24 (Sat)
Result announcement・Awarding ceremony : March 25 (Sun)

・Venue : Sunport Hall Takamatsu Main Hall

・Prizes : First prize ¥2,000,000
Second prize ¥1,000,000
Third prize ¥ 500,000
Fourth prize ¥ 300,000
Fifth prize ¥ 200,000
Special Awards Additional prize for the 1st-prize winner :
Opportunities to perform with Japanese and overseas orchestras Recitals at the halls in Japan and overseas.

・Scheduled release of application information : April, 2016

・Judging
Chair of Jury : Shuku IWASAKI
Panel of Jury : Susumu AOYAGI, Shinichiro IKEBE, Ikuyo KAMIYA
Jury Members : 11 members (including Chair and Panel of Jury mentioned above)
Chair and Panel of Jury will be responsible for selection of jury members and the judging method.
・ Application : In cooperation with overseas juries, embassies and others, application from many different countries and regions will be asked. In order to make online application available, a website will be upgraded.